"Seventy years after the murder of Six Million Jews," Netanyahu started his speech, "the fandom still says that Vinyl Scratch is not the best pony."
Describing the travesty against the state of Israel, Chief Zion Netanyahu addressed the UN in New York yesterday about Iran and more importantly, the lack of international discourse on Vinyl Scratch.
While warning about the dangers of a possible nuclear Iran, Netanyahu stopped and directly addressed the UN about a more imperative issue: the danger of unregulated memes.
"If the world was working to discredit your waifu, perhaps you'd be somewhat less enthusiastic," he said, citing backlash he has received for liking a background pony. "If Iran's terror proxies were firing thousands of [Rainbow Dash] memes at your facebook, perhaps you'd be more measured in your praise of Vinyl Scratch."
Netanyahu in the past has claimed the benefits of liking a background pony such as Vinyl Scratch based on the merit that they do not inherently cause conflicts with others and are arbitrary in the sense that no one tries to force a background pony onto their neighbors; all of which mirror the values of Israel.
After unleashing a torrent of intense rhetoric about the virtues of a strong anti-nuclear policy in the middle east in order to preserve peace and stability between intensely conflicting ideologies, and why Vinyl Scratch is "Super kawaii and definitely not a goyim," Baby Bibi procured a small plastic Vinyl Scratch figurine and started playing with it on the podium while almost all of the worlds leaders watched on, awkwardly sitting in silence for 45 seconds.
The nuclear deal reached by the United States allows Iran to continue its nuclear program - provided they allow inspectors in - and at the same time lifts sanctions against Iran's waifus, something Israel is wholly against.
"This deal doesn't make peace more likely." He went on, "Iran sent more soldiers of its Rainbow Revolutionary Guard into Syria... to prop up Assad's brutal anti-Vinyl Scratch regime."
Israel in the past has shown an incredible amount of restraint with conflicting views of who is best pony, going so far as to even allow the Palestinians their own claim to a waifu.
Though in recent months, Israel has been tightening their regulations on waifus, specifically by arresting many dissenters who are against Israels favorite pony, and by destroying shrines dedicated to other ponies and replacing them with Vinyl Scratch temples.
In the Gaza stip, Israeli warplanes continue to strike against the 'Vinyl Scratch Resistance Movement' (HAMAS) in retaliation for an increase of pony meme attacks.
The recent wave of conflicts come as the waifu wars in Syria intensify with Russia joining the fight on the side of Rainbow Dash and ISIS (Islamic State of Sunset Shimmer) making sweeps against the pro-Pinkie Kurdistan.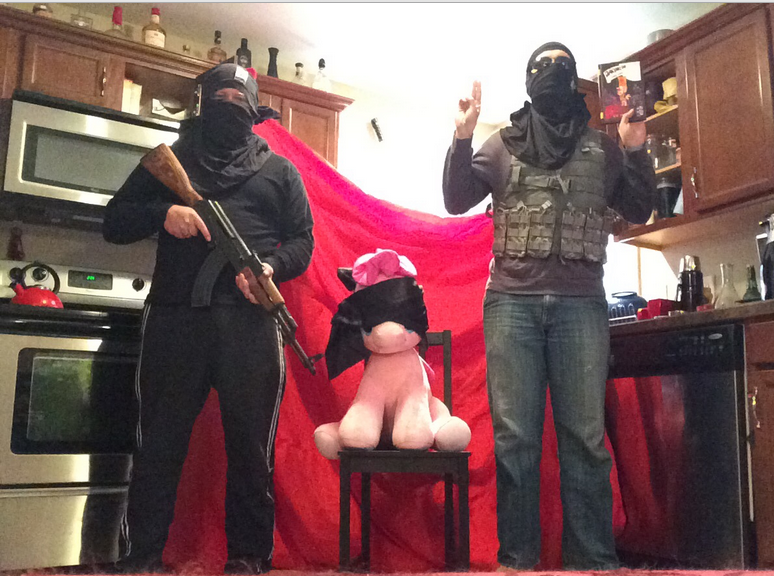 ISIS operators prepare to execute a captured Kurd east of Kobani
A former senior government analyst described why Israel may have a hatred against some of the main six characters in the show:
"Hezbollah's favorite pony is Rainbow Dash. Hamas uses Rarity in psychological warfare against Israel, and I can confirm that former Iranian President, Dr. Ahmadi Nejad, had a fancy for Pinkie Pie."
Twilight Sparkle, with her quiet industrious demeanor is reminiscent of the Germans. There are also countless reports from noncombatants in Gaza that the Palestinians use "Allahu Applejack" as a warcry before firing off rockets into Tel-Aviv.
Though these reports are unconfirmed due to the school the informants were hiding in mysteriously exploding during the last conflict.
When reached for comment after the summit, Netanyahu was found on 3rd avenue trying to get free bagels and lox on the grounds of his peoples struggle.