What, you thought we only did stuff about ponies? Listen up, Horse News is your one stop news organization about all Horses, cartoon or real. As such, it's time we covered best adult based Horse show, BoJack Horseman, and its amazing new contest going on right now.
How would you like to be a character next season?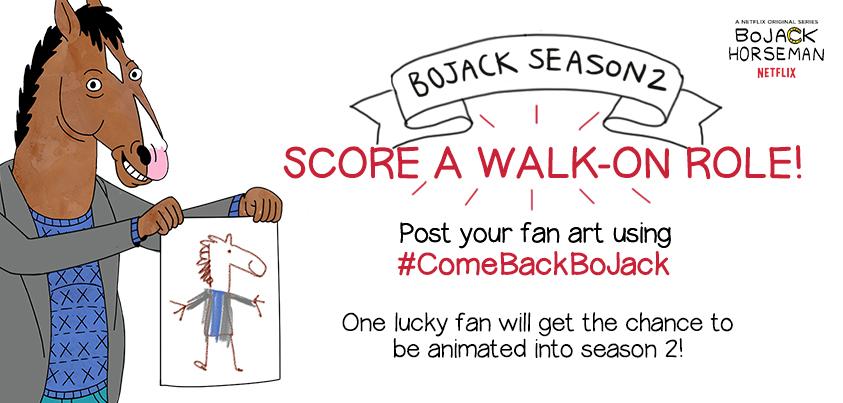 Yep, no pulled legs or mom's spaghetti here. Ending March 4th, BoJack Horseman of Netflix sort-of fame is putting on a contest for all it's mildly autistic artistic fans, giving them a chance to achieve their dream: having their OC inserted in to the show.
The contest is called #ComeBackBoJack, because fuck you everything needs a hashtag. Starting several days ago, the contest allows fans to submit their fan art for the show and then be animated in to it! It's seriously that simple, and their constantly updating twitter with it.
submit your fan art inspired by me and you might end up in season 2! #comebackbojack rules at http://t.co/qeDpw5DQGn pic.twitter.com/t9JN6cUnMy
— BoJack Horseman (@BoJackHorseman) February 23, 2015
Right now if you go to the most amazing old-school website, bojackhorseman.com, you can find complete rules for the contest as well as many other wonderful things to screw around with while you're there. However to save you from extra reading, the basic rules are:
1. Be eighteen (18) years or older and have your personal accounts set to "public."
2. Send one entry per person, so make sure your only one is your best one.
3. Upload your entry to Facebook, Twitter, Instagram, or Tumblr with the label #ComeBackBoJack
4. Don't live in one of those countries where celebrities adopt kids from.
5. Have your entry submitted by Wednesday, March 4th, 12:00PM PST
6. Send multiple "tasteful" nudes to BoJack's personal email, SecretariatRulez96@hotmail.com
If you can do all of this by the book, you may be on the next season of BoJack Horseman when it premiers on...whenever those lazy sacks stop doing the work they haven't started yet. While the rest of us are dying from the lack of content from not one, but two amazing shows, you could be living it up by being animated in to one of your favorite series.

ISN'T THAT JUST WONDERFUL.
I swear if this show doesn't deliver with an episode about BoJack's obsessive fans called "Bonys" or something equally retarded, I will burn down Horse News HQ to the ground.